Vestfold and Telemark counties, Norway
Vestfold and Telemark counties in Norway have a shared public transport system. The two counties have a vision to "Simplify people mobility". This vision is divided into four sub-categories: customer and market-oriented offerings, green transformation, development and new opportunities and cooperation and dialogue.
Vestfold and Telemark have an offensive yet challenging mission to make car travellers change to travel by bus. It has been decided that car traffic in Vestfold will not increase, despite population growth. Therefore, public transport must be strengthened, from being an available alternative to become the first choice.
The main challenge is therefore to attract totally new target groups. The public transport department at Vestfold and Telemark is very forward-thinking and innovative and are working proactively in attracting passengers.
Long operation and easy maintenance
Axentia has delivered 400 battery-operated real-time information displays to Vestfold and Telemark divided in several batches for over a decade. The installed displays are a mix of two and three row iBus LCD displays. Many real-time information displays are equipped with a Text-to-Speech button making the information accessible to visually impaired people.
Having had iBus LCD displays installed for such a long time also means that Vestfold and Telemark have made battery replacements on some displays after 3 years or more.
"It is very easy to change batteries on the displays. It only takes a few minutes per display and anyone can do it. The web-based tool iBus Web Administration is also very helpful to monitor and keep track of battery levels on individual displays."
Bjørn G. Aasebø, Teamleader, Vestfold and Telemark
Battery-operated displays indoors
In the city Tønsberg, Vestfold and Telemark has run a project placing Axentia's battery-operated real-time information displays indoors at the gates leading out to the bus platform at Tønsberg Rutebilstasjon, Farmandstredet. Even though there are access to permanent external power at the terminal, Vestfold and Telemark has chosen to install battery-operated displays due to the ultra-low power consumption and reliable operation.
Real-time information and pictures in combination
At Landmanstorget in the city Skien a pilot project with 28 inch iBus TFT displays have been installed. These displays differ from the rest of the product portfolio since they are driven on permanent external power. On the TFT displays there is a possibility to show infotainment on part of the display together with real-time information. The customers easily update the media content (pictures and videos) themselves in the Content Management System (CMS).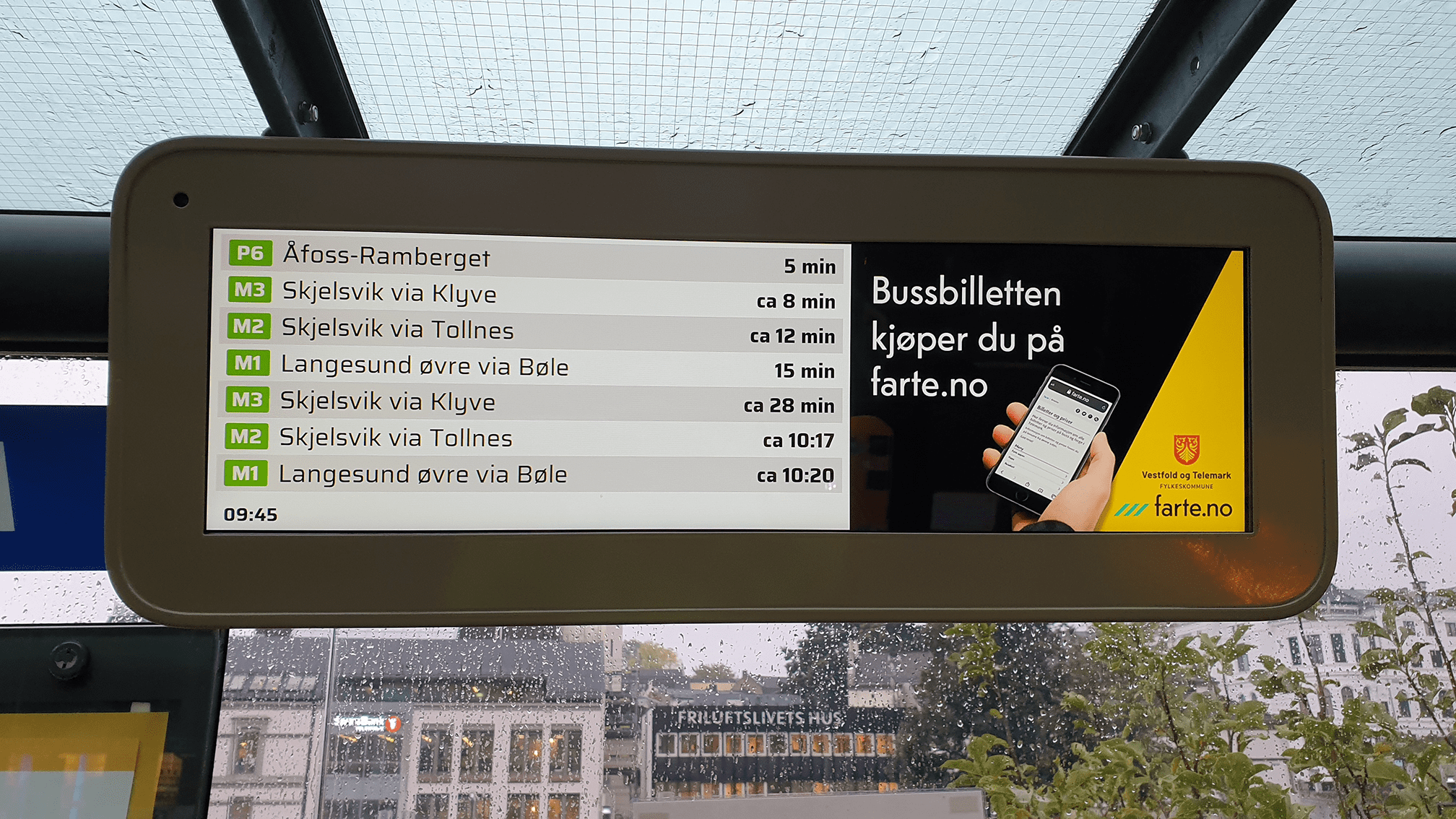 Vestfold and Telemark counties