The ultra-low powered iBus LCD displays are battery operated and run for 3 years between battery changes without any need for external power. The displays operate on all stops also where electricity or sunlight is not available. Therefore, the iBus LCD displays are easy to use also on temporary stops.
Axentia has developed a compact display design with low weight, typically below 15 kg dependent on configuration. Installation is simple and only takes about 5 minutes by one person.
The transflective LCD displays uses sunlight for contrast to get excellent readability. When dark, backlight is always turned on.
The displays have true real-time meaning that latency updates are made within maximum 10 seconds using full roaming on 4G/5G LTE.
iBus LCD portfolio
Axentia's iBus LCD displays come in different sizes and can be single or double sided.
Technical specifications
Physical
Housing Colour:
Colours on demand
Size (H):
Configurable
Environmental
Temperature:
-30° C to 70° C operational
Humidity:
10 % – 100 %
MTBF:
80.000 hours
IP65, IK 09, UV-proof
Display
Type:

LCD with backlight
Row active area:
367 x 41,5 mm
Row resolution:
172 x 16 pixels / row
Rows:
2-5 rows
Single sided (Double sided as option)
Accessories / options
Text-To-Speech embedded module, speaker and wireless push button, AGC optional
Temperature (internal/external)
Accelerometer
Solar powered
GPS
Graphical information
Fully configurable graphical area

Font size height up to 41,5 mm
Any characters, fonts and symbols
Number of characters for Line/Destination/Time customizable
Vertical scrolling
Disruption messages up to 400 characters
Operation
Battery:
Lithium, +3 years
Solar powered:

NiMH, +12 years
Data communication:
GSM/3G/4G/5G (LTE)
Antennas:
Embedded
Accessories
See our accessories and add-ons such as Text-to-Speech button, solar panel and digital timetable and learn how they can enhance the total real-time information display experience.
Learn more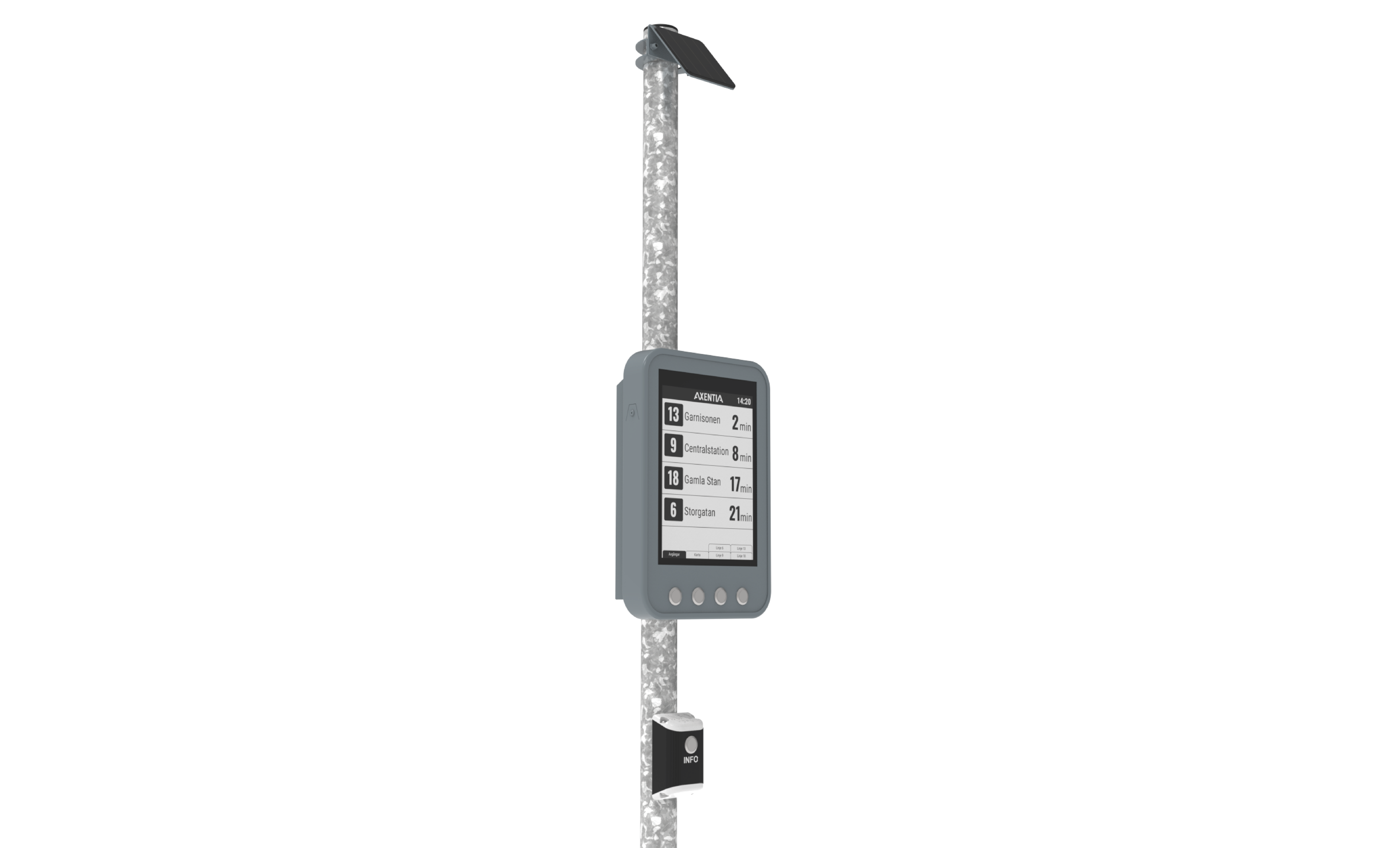 Book a demo!
We are happy to show you more of our products at a demo session and together find a solution that suits your organization.
Contact us