Upgrade your one colour LED display to Axentia iBus RGB-LED.
iBus RGB-LED displays are optimized for its operating conditions resulting in a low-powered product with high resolution. Due to the low-power use this is a good environmental choice.
Robust design and good readability in all light conditions.
The displays can be made in many sizes, resolutions (pitch) and many configurations.
Technical specifications
Physical
Housing Colour:
Colours on demand
Size (H):
Configurable
Environmental
Temperature:
-30° C to 70° C operational
Humidity:
10 % – 100 %
MTBF:
80.000 hours
IP65, IK 09, UV-proof
Display
Type:

RGB-LED
Pitch:
2,5-5 mm
Size:
Scaleable (160×160 mm, 190×190 mm and 250×250 mm modules)
Single sided (Double sided as option)
Accessories / options
Text-To-Speech embedded module, speaker and wireless push button, AGC optional
Beacon, Eddystone and iBeacon
Accelerometer
Temperature (internal/external)
GPS
Graphical information
Full colour RGB

Fully configurable graphical area
Any characters, fonts and symbols
Number of characters for Line/Destination/Time customizable
Vertical and horizontal scrolling
Disruption messages and general messages
Operation
Power:
100-240VAC,50/60Hz
Streetlight power or permanent power
Battery:
Lithium Ion (for streetlight)
Data communication:
GSM/3G/4G/5G (LTE)
Antennas:
Embedded
iBus RGB-LED portfolio
The displays can be made in many sizes and have many configurations.
Accessories
See our accessories and add-ons such as Text-to-Speech button, solar panel and digital timetable and learn how they can enhance the total real-time information display experience.
Learn more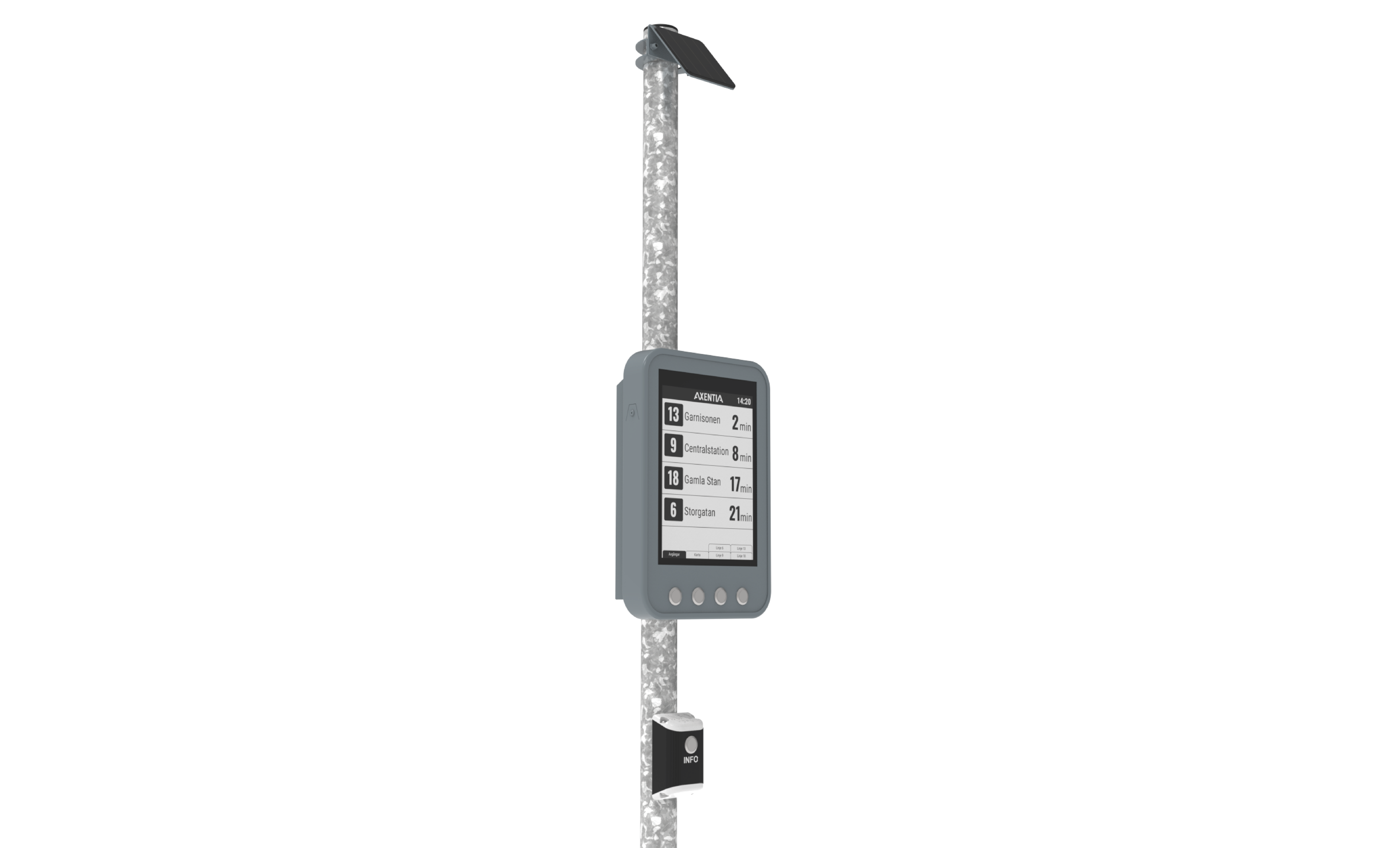 Book a demo!
We are happy to show you more of our products at a demo session and together find a solution that suits your organization.
Contact us