The low-power iBus TFT displays are designed and developed to be optimized for the specific needs of public transportation with its challenging tough environments.
The design is optimized for good readability and entails environmentally friendly low power usage. Our design settings manage potential heating challenges in an optimized way. There is no need for any active cooling.
There is a sustainable benefit where the power consumption is as low as possible. Low power consumption makes it feasible also using temporary charging from street light electricity or weather shelter lighting.
All iBus TFT displays are equipped with a light sensor to optimize display backlight for good readability in all light conditions.
The displays are light weight and have a compact design also when double-sided. There are no external antennas or cables affecting placement possibilities. The displays can be made in many sizes and have many configurations.
For models placed on a one-to-one height touch displays can be used to enable travellers to interact.
iBus TFT Portfolio
Axentia's iBus TFT displays come in different sizes and can be single or double sided.
Technical specifications
Physical
Housing Colour:
Colours on demand
Size (H):
Configurable
Environmental
Temperature:
-30° C to 70° C operational
Humidity:
10 % – 100 %
MTBF:
80.000 hours
IP65, IK 09, UV-proof
Display
Type:

Fully graphical TFT/LCD
Size:
15 – 65 inch
Viewing angle:
176° (vertical & horizontal)
Luminance:
500–2000 cd/m2
Single sided (Double sided as option)
Accessories / options
Text-To-Speech embedded module, speaker and wireless push button, AGC optional
Temperature (internal/external)
Accelerometer
GPS
USB connectors for charging
Graphical information
Fully configurable graphical area

Any characters, fonts and symbols
Number of characters for Line/Destination/Time customizable
Vertical and horizontal scrolling
Disruption messages and general messages
Operation
Power:
100-240VAC,50/60Hz
Streetlight power or permanent power
Battery:
Lithium Ion (for streetlight)
Data communication:
GSM/3G/4G/5G (LTE)
Antennas:
Embedded
Accessories
See our accessories and add-ons such as Text-to-Speech button, solar panel and digital timetable and learn how they can enhance the total real-time information display experience.
Learn more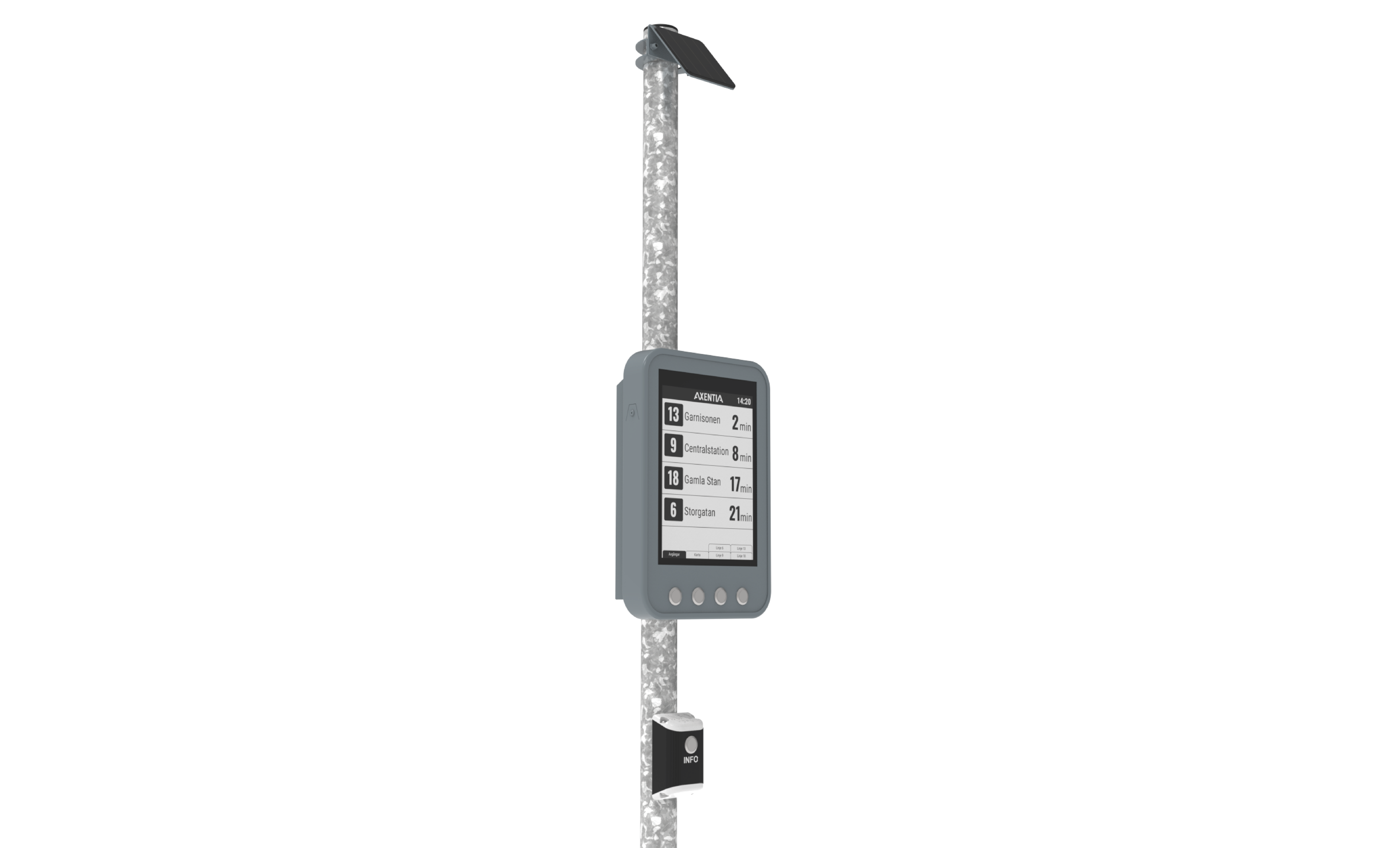 Book a demo!
We are happy to show you more of our products at a demo session and together find a solution that suits your organization.
Contact us