The ultra-low powered iBus E-paper displays operate for 3 years on battery between battery changes and have no need for any continuous maintenance.
The high resoluted fully configurable iBus E-paper displays have high contrast and front light giving the displays excellent readability.
True realtime is applied with latency updates of both data and display within maximum 10 seconds using full roaming on 4G/5G LTE.
No external cabling is needed to operate these battery-driven real-time displays. The displays can therefore be placed on any given location, not only bus stops, with limited or no access to the fixed power grid or sunlight. Installation takes less than 5 minutes.
The displays are typically placed high on a broadcast level for every passenger to read relevant information. However, the 13" E-paper display with 4 buttons is developed to be placed on a one-to-one height for interaction and interoperability for more extensive information such as printed timetables, maps and pictures.
iBus E-paper portfolio
Axentia's iBus E-paper displays come in different sizes and can be single or double sided.
Customer installations
A selection of customer installations of iBus E-paper displays.
Technical specifications
Physical
Housing Colour:
Colours on demand
Size (H):
Configurable
Environmental
Temperature:
-20° C to 70° C operational
Humidity:
10 % – 100 %
MTBF:
80.000 hours
IP65, IK 09, UV-proof
Display
Type:

EPD (E-ink)
Size:
9,7-31,2 inch
Front light:
LED
Single sided (Double sided as option)
Accessories / options
Text-To-Speech embedded module, speaker and wireless push button, AGC optional
Temperature (internal/external)
Accelerometer
Solar powered
GPS
Graphical information
Fully configurable graphical area

Any characters, fonts and symbols
Number of characters for Line/Destination/Time customizable
Real-time, timetables, line maps, pictures etc.
Disruption messages and general messages
Operation
Battery:
Lithium, +3 years
Solar powered:
NiMH, +12 years
Data communication:
GSM/3G/4G/5G (LTE)
Antennas:
Embedded
Axentia has delivered the ultra-low powered real-time information e-ink displays with the E ink modules since 2016. Optically bonded high-quality contrast e-ink displays combined with Axentia's innovative technology and software creates a premium end-product enhancing bus-stops and the traveller's experience. There is a wide product range with many design options available for customers based on 9,7", 13" and 31,2" E ink modules, single or double-sided, landscape or portrait orientated.
Accessories
See our accessories and add-ons such as Text-to-Speech button, solar panel and digital timetable and learn how they can enhance the total real-time information display experience.
Learn more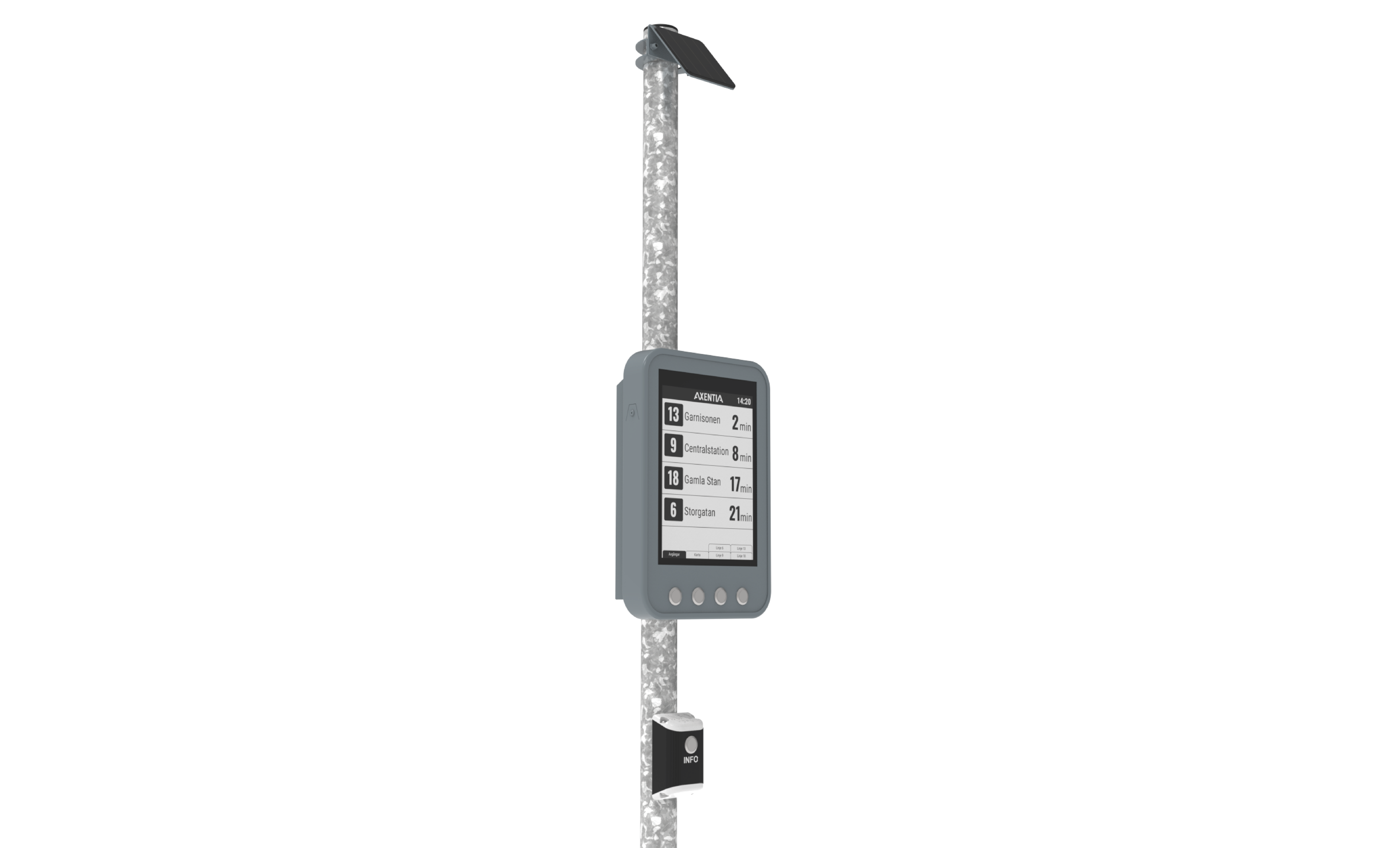 Book a demo!
We are happy to show you more of our products at a demo session and together find a solution that suits your organization.
Contact us