Axentia iBus Products
Tailored to your needs
People depend on public transport in their everyday lives. The quality and availability of public transport information can make or break a day. Whether you live and work in the city or on the countryside, you need up-to-date information close by to keep your day going as you planned it.
Axentia's battery or solar powered display system iBus ensure lower procurement cost, simple installation procedures and a more flexible administration. Real-time information services can be afforded over larger areas, reaching even more people.
Axentia's iBus Display portfolio is very broad and can be supplied in many sizes and formats according to customer requests. Both hardware and software are developed by Axentia to ensure low power consumption and full control. This also enables us to be flexible and customize to a high extend whether it concerns technical functions or design requirements.
Axentia iBus Product Highlights
Ultra-low power
The Axentia iBus displays operate for 3 years on battery between battery changes and without any need of external power.
True real-time
Latency updates of both data and display within maximum 10 seconds using full roaming on 4G/5G LTE.
Uses any available data feeds such as SIRI, GTFS, VDV and many others.
Great readability
Backlight/frontlight always on when dark, no need for motion sensors
Anti-reflective treated front-glass
Practical benefits
No external cables or antennas needed
Easily integrated in existing infrastructure such as poles, foundation and weather shelters etc.
Withstands tough environments in public places and vandal proof
Compact design and low weight. Display and batteries included in one compact unit.
Typical installation takes less than 5 minutes by one person
Easy to maintain
No need for continuous maintenance exept from potential battery replacements every 3-5 years
Operates on all stops also where electricity or sunlight is not available
Little or no need for maintenance
Full surveillance
Power Strategy
Internal power
Battery powered
No external wiring
Completely autonomous
Intermittent power
Rechargeable batteries
230/110 VAC periodically
Permanent external power
230/110 VAC/24h
12/24 VDC/24h
Design
The iBus displays are easily integrated in existing infrastructure or designed according to your requests.
Accessories
See our accessories and add-ons such as Text-to-Speech button, solar panel and digital timetable and learn how they can enhance the total real-time information display experience.
Learn more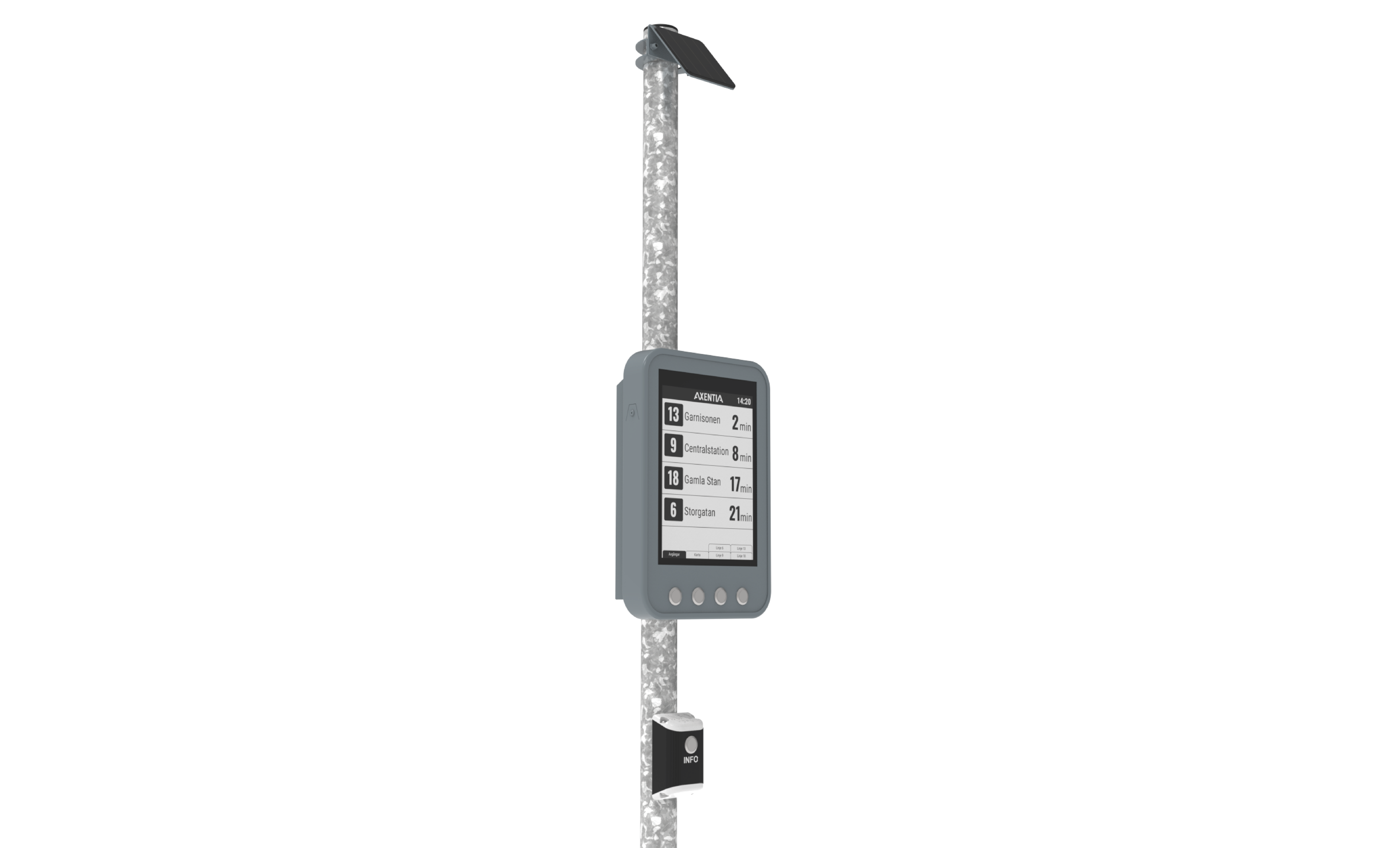 Book a demo!
We are happy to show you more of our products at a demo session and together find a solution that suits your organization.
Contact us