Sörmlandstrafiken, Sweden
Region Sörmland is the public transport authority in the region since 2019. The operation is run under the brand Sörmlandstrafiken.
Sörmland has a regional development strategy reaching to 2035. In this strategy public transport plays an important role of contributing to a sustainable environment. To achieve the goals a systematic work is required where every decision, project and implementation acts in direction to the goals. Axentia has worked with Region Sörmland since they become responsible for public transport in the region. The keywords for Sörmland's overall strategy are the traveller in focus, uniformity and cooperation. Furthermore, there are four functional goals set out for public transport that are in line with the very essence of Axentia's core business:
A functional public transport that supports regional and local development
Attractive public transport that is user friendly with high quality
Efficient public transport which is sustainable and coordinated
Accessible public transport that offers good travel opportunities
Different displays for different types of bus stops
Sörmland has several iBus real-time displays in its portfolio to satisfy the many towns' different needs. The most common display is the battery operated iBus LCD display with 4 rows, single or double sided. These displays are installed on bus stops without weather shelters.
Where there are weather shelters the wall mounted iBus 15" TFT or iBus 13" E-paper displays are used. Both display modules are integrated in the same casing with square corners to keep uniformity. The TFT displays are used in the weather shelters where electricity already is installed. The displays run on intermittent power meaning that the rechargeable batteries use power from streetlight during night. The E-paper displays on the other hand are battery operated and don't require any external cabling and can therefore be installed anywhere also where there is no electricity.
"It is very easy to work with Axentia and our portfolio of Axentia iBus displays fit every category of stops."
Joakim Rosvall, IT Strategist
Integration in existing totems
In Torshälla the iBus LCD with 4 rows has been integrated in already existing totems. These totems are oval shaped whereas the iBus displays are straight. To make the display modules fit in the totem Axentia designed and produced a specially developed plastic integration kit.
Making information accessible
One of Sörmland's goals is to be accessible and one way to fulfil the goal has been to install a text-to-speech button in connection with all displays. In this way visually impaired citizens can get access by pushing the button and get the real-time information and messages read out loud.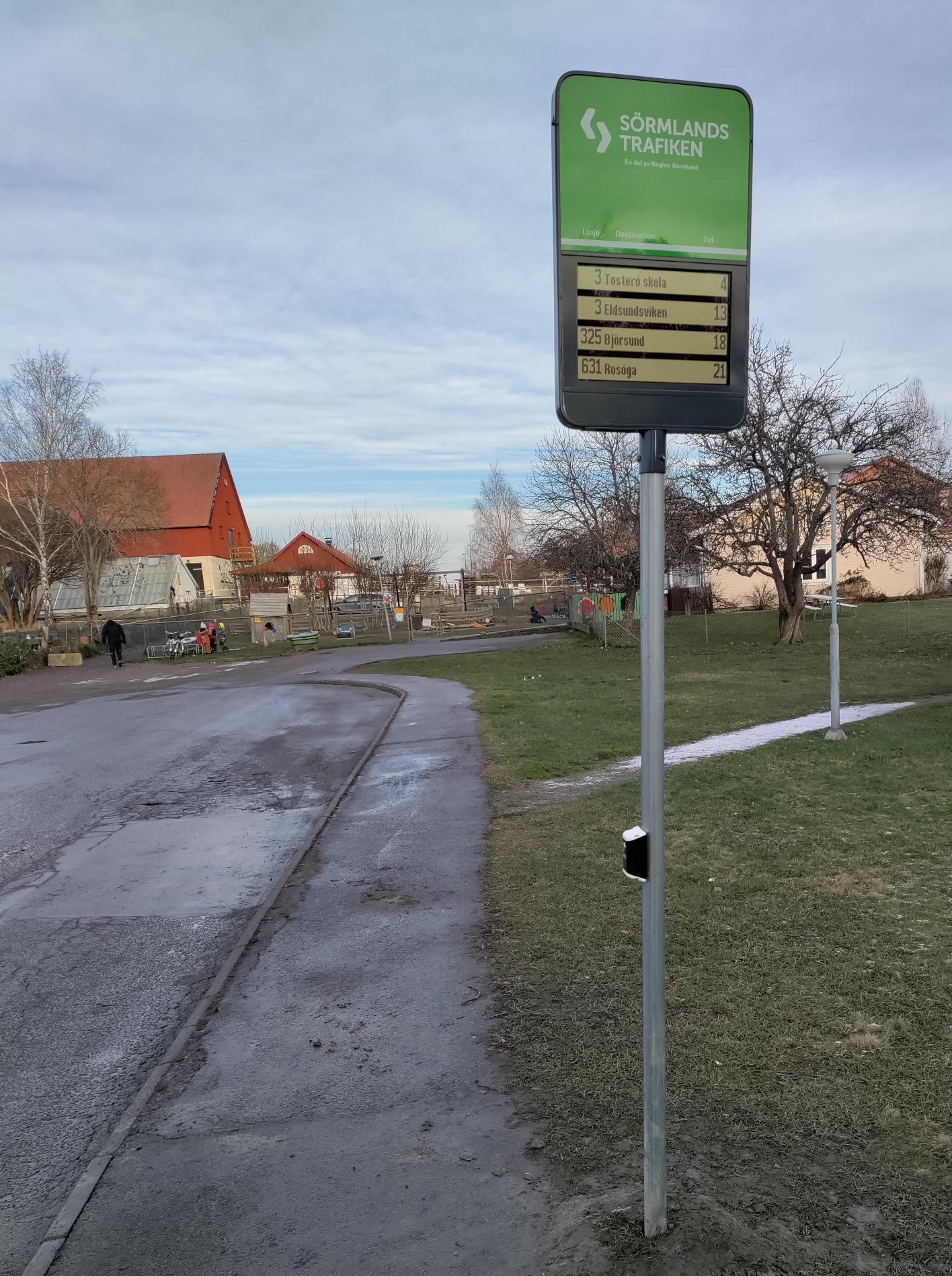 County of Sörmland, Sweden