STIB-MIVB Brussels, Belgium
STIB-MIVB Brussels, the Public Transport Authority in Brussels, Belgium, wishes to become the favourite urban mobility solution in Brussels and be integrated in its metropolitan area.
Between 2009 and 2019, the number of journeys grew by 50%. In Brussels, nowadays nearly half of the journeys (besides walking) are made by public transport.
STIB-MIVB strives to continually improve the quality of the services provided to the customers. STIB-MIVB aims to offer the travellers: the best adapted transport solution with a competitive travel time, at an affordable price, under excellent conditions of comfort and security.
Battery-driven real-time displays
In 2015 STIB-MIVB wanted to develop their services with real-time displays that did not need any external power source. Axentia was chosen as STIB-MIVB liked our technical solution and the ultra-low power use with 3 years of battery operation.
"We highly appreciate that the displays are completely autonomous with a 3-year warranty between the battery replacement without any kind of external energy."
Mohamed Khouldal, Project Manager STIB-MIVB
In phase one 850 displays were delivered and an additional 120 displays were delivered during 2017. This has resulted in 85% of passengers now benefiting from a real-time display whilst waiting at a bus stop. Brussels's plan is to cover all stops with real-time information.
Customisation became new Axentia standards
Axentia is always keen on meeting customers' demands. STIB-MIVB had a well incorporated design expression on their bus stops and wanted the new real-time displays to follow this look. Up until then the Axentia iBus displays had had straight corners. To fit the STIB-MIVB design and align with their static information boards, in both design and dimensions, Axentia developed a new tool to make the corners rounded. This softer look also became the new Axentia design.
To further comply with STIB-MIVB's requirements the five row iBus LCD display was developed. Prior to this project the LCD product portfolio consisted of two, three and four row displays.
This project also pushed product development to create a mounting solution to place the displays directly on poles. An option that today is one of many standard mounting solutions.
In addition to the customer-specific product developments, production and delivery the project also included testing, documentation and training.
Easy installation and reliable operation
STIB-MIVB is a large and highly professional organization that wants to handle installation and maintenance themselves. Therefore, Axentia was a perfect match since the displays are very quick and easy to install, it only takes approximately five minutes. Also, the only maintenance needed are change of batteries every 3 years.
Now, when the displays have been up and running for several years, the conclusion is that operations have been very good, well under required levels stated in the tender.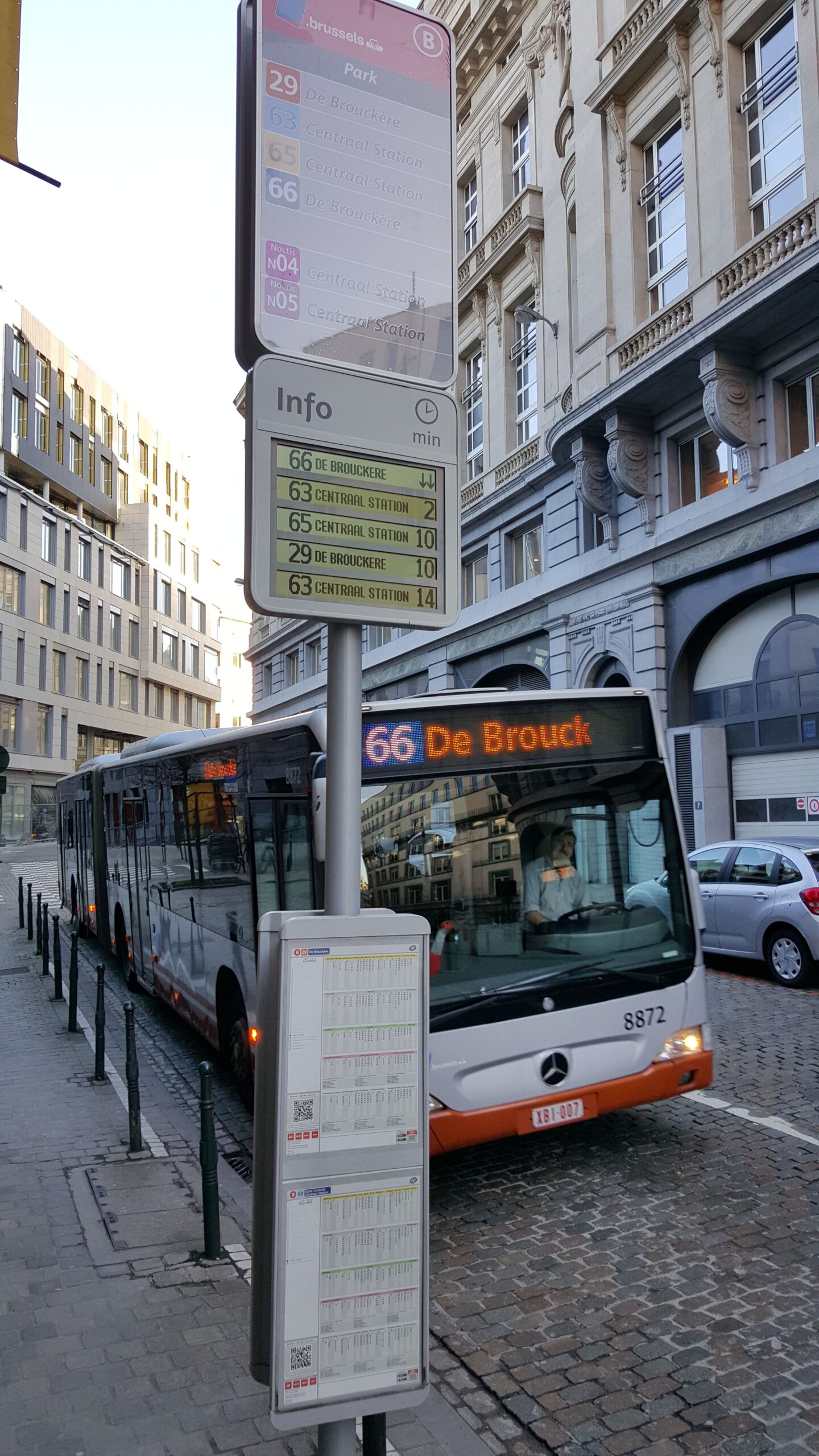 Brussels, Belgium