CTS, France
Compagnie des Transports Strasbourgeois (CTS), the public transport operator in Strasbourg in France is acknowledged across Europe for its services and innovation capabilities. CTS is also both the operator and contracting authority for the urban public transport network of the metropolitan area of Strasbourg.
Sustainable development is central for CTS who constantly aims at improving public transport for the inhabitants of greater Strasbourg. CTS highly values innovation and customers' expectations when it comes to information, access to mobility, comfort, safety and security.
Functions exceeding expectations
After learning about Axentia and our battery-operated product portfolio, that do not require any external wiring, CTS changed its mind regarding installation. CTS realized that the installation of the Axentia iBus displays was so easy, that they decided to handle it itself, whereas it initially planned to request the supplier support for this task:
"Axentia's low-powered and battery-operated real-time information displays are a perfect match for CTS from a sustainability perspective. The fact that the displays can be customized and easy to install is a great advantage too."
Arthur Notter, Project Manager
In 2017, 250 iBus LCD displays were delivered to Strasbourg and installed along both bus and tram lines. The displays are double-sided 2 and 4 row LCD displays and 5 row single-sided LCD displays. The 5 row displays were installed in JCDecaux weather shelters, whereas the double-sided 2 and 4 row displays were mounted on Clear Channel poles. To fit on these poles, Axentia developed a special mechanical construction.
TFT displays at tram stops
The next big project CTS initiated deals with TFT displays to be installed along tram lines. To fulfil the requirements, Axentia developed a new product, a stretched 28 inch iBus TFT display. CTS approved the model but ordered larger displays, i.e. stretched 37 inch iBus TFT displays, both single and double-sided.
These displays needed to be assembled on customized poles, that Axentia designed and produced in cooperation with a local French supplier. Axentia also handled the installation via a local installer in this project.
By running these projects and ordering additionally 850 LCD displays, CTS fulfilled its goal to equip most of the bus and tram stops in Strasbourg with real-time displays.
Adapting to special features
Over time, CTS has developed its interface and Axentia has followed suit, making the necessary adaptions.
Instead of using a Text-to-Speech button, it is more common in France that visually impaired have their own personal remote control. Therefore, all iBus displays delivered to CTS have been equipped with a sensor that can be connected to the personal remote controls enabling visually impaired to take part to real-time information and messages.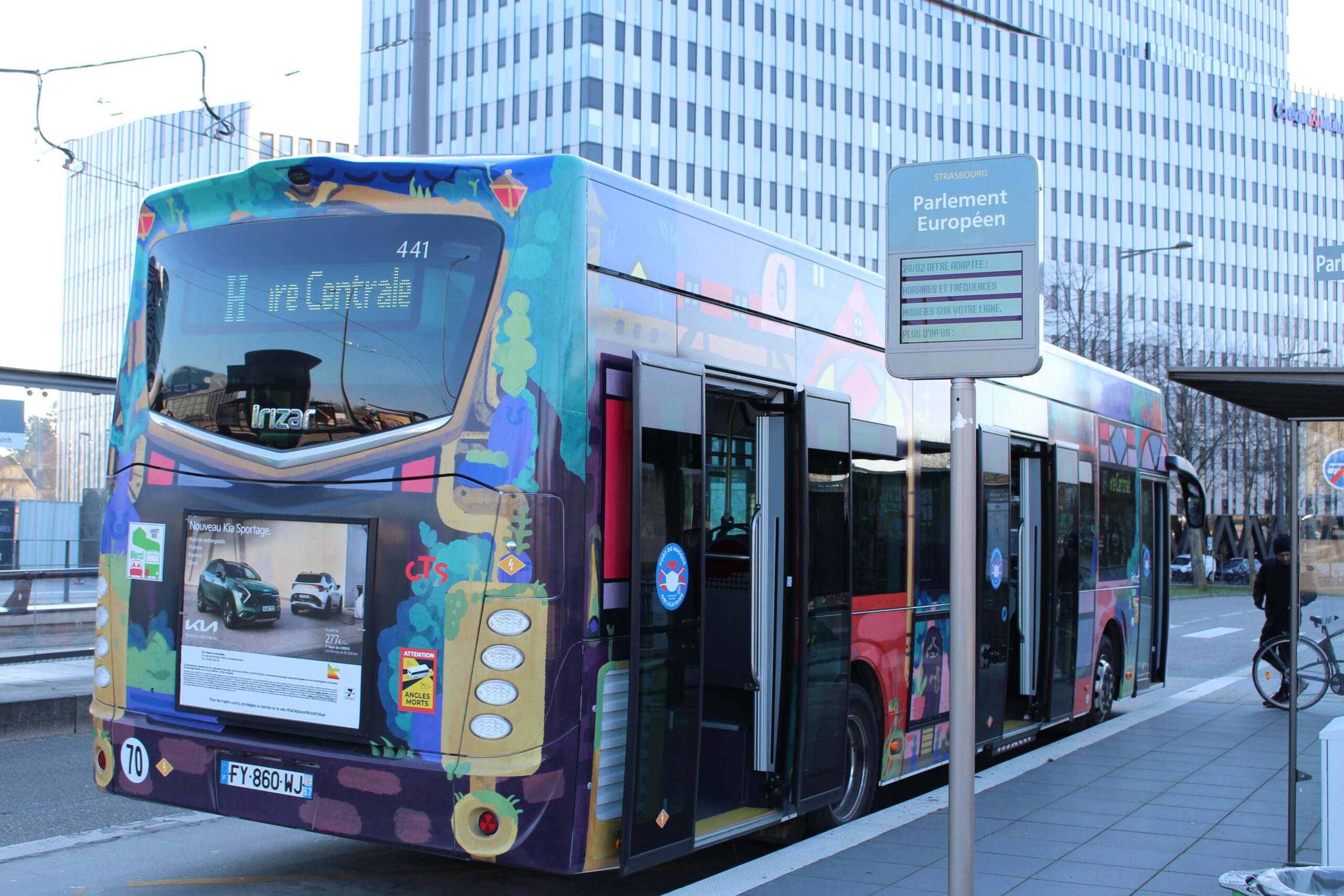 4 row iBus LCD display in Strasbourg, France